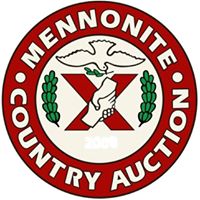 Welcome to the  Mennonite Country Auction website
2019 will be our 42th year
Mennonite Country Auction will be Saturday October 5, 2019
Liberty Quartet from Boise, Idaho will be providing entertainment this year.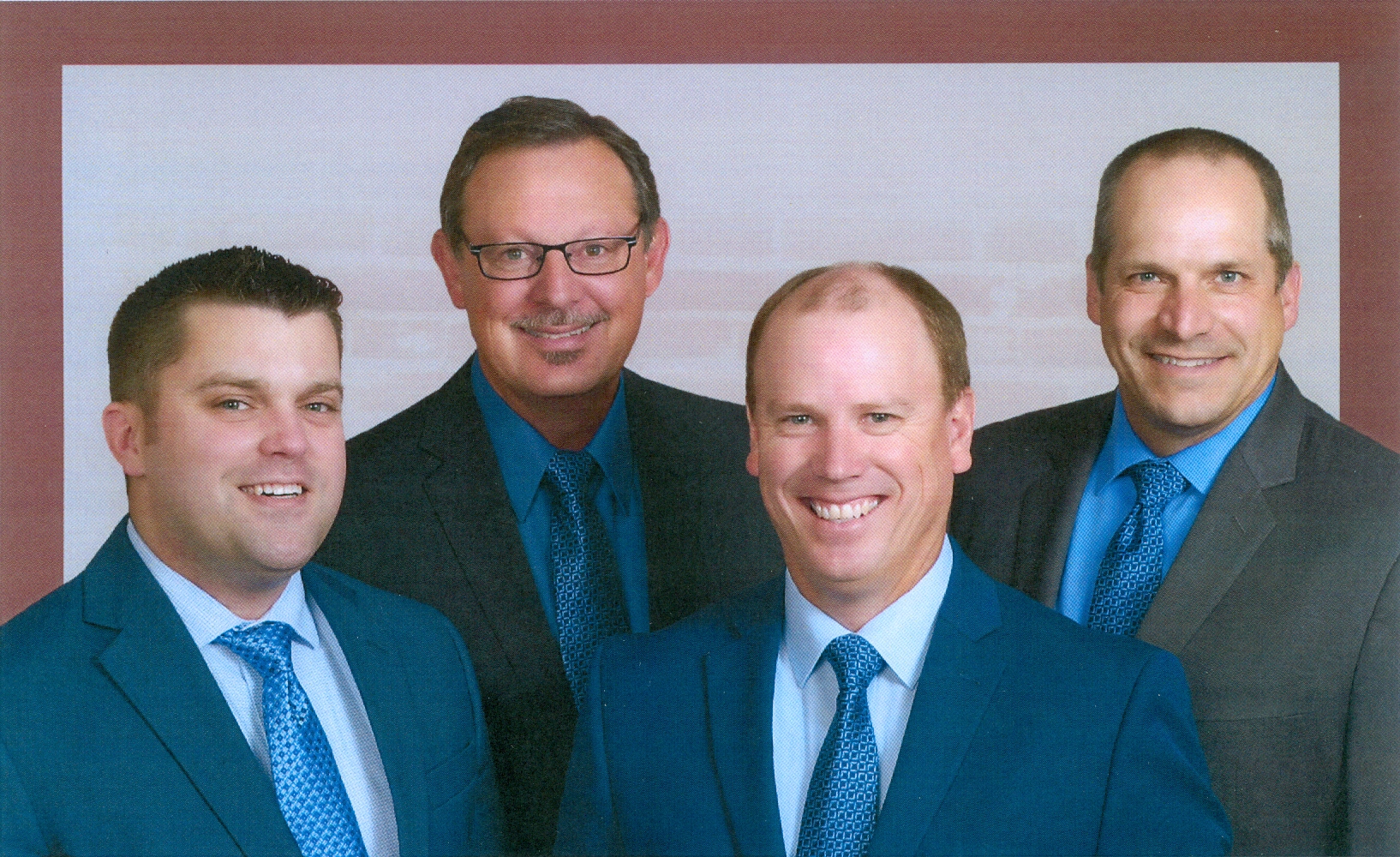 Liberty Quartet, from Boise, ID, will be performing Saturday morning at 10:30 am on sale stage and again on Sunday for the worship service. To learn more about Liberty, you can go to their website at: www.libertyquartet.com or

click here
This is how it all started!
The idea to have a MCC relief sale at Menno Church came about when a Christian Enrichment Committee made up of Warren "Butch" Gering, Kay Jantz and Dorene Claassen were planning activities. Under their direction, the first Menno Mennonite Church MCC Relief Sale was held on September 23, 1978 from 2-5 p.m. There was an auction and eight booths including pony rides. Total receipts were $7,300. Chairman Butch reported "…the crowd was larger than most of us expected and the proceeds from the sale were greater than any of us dared dream possible."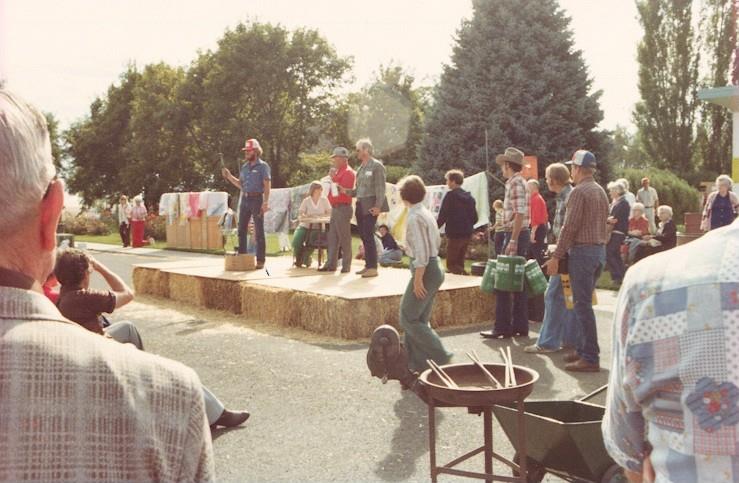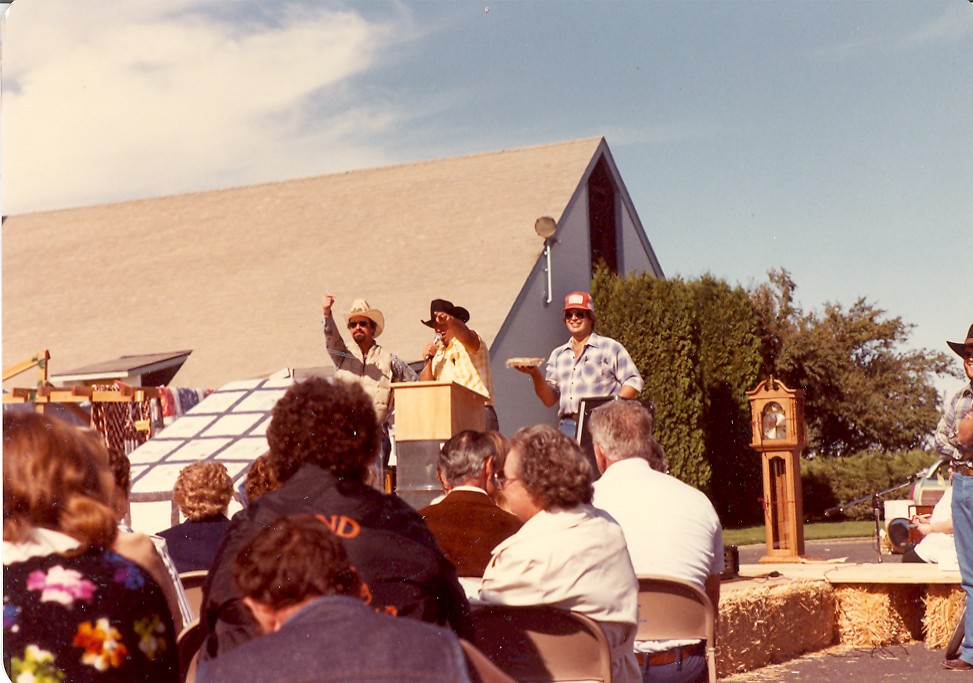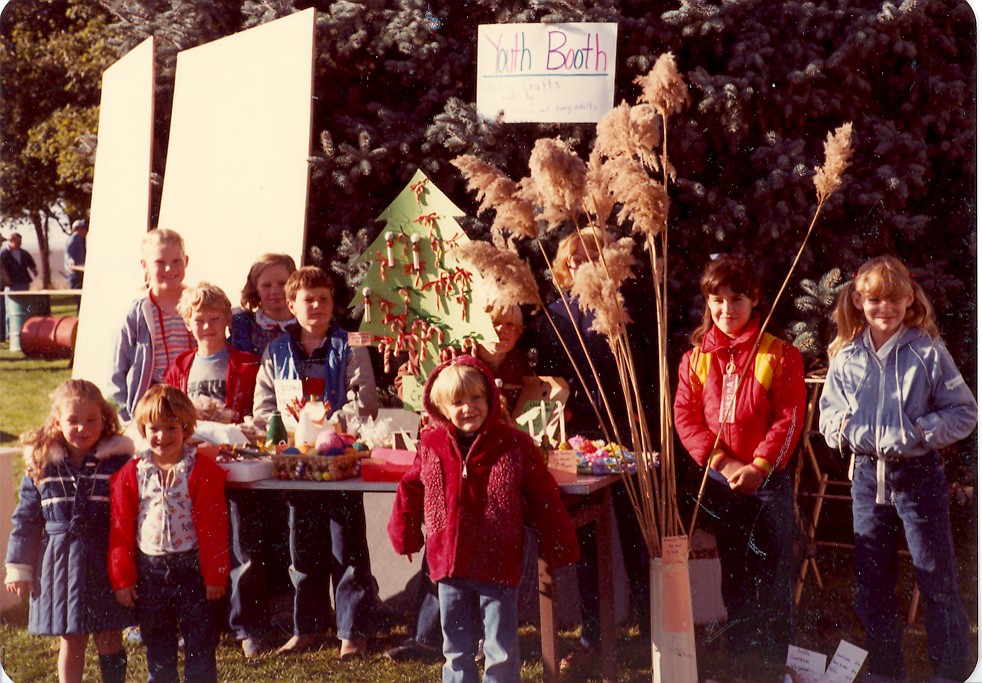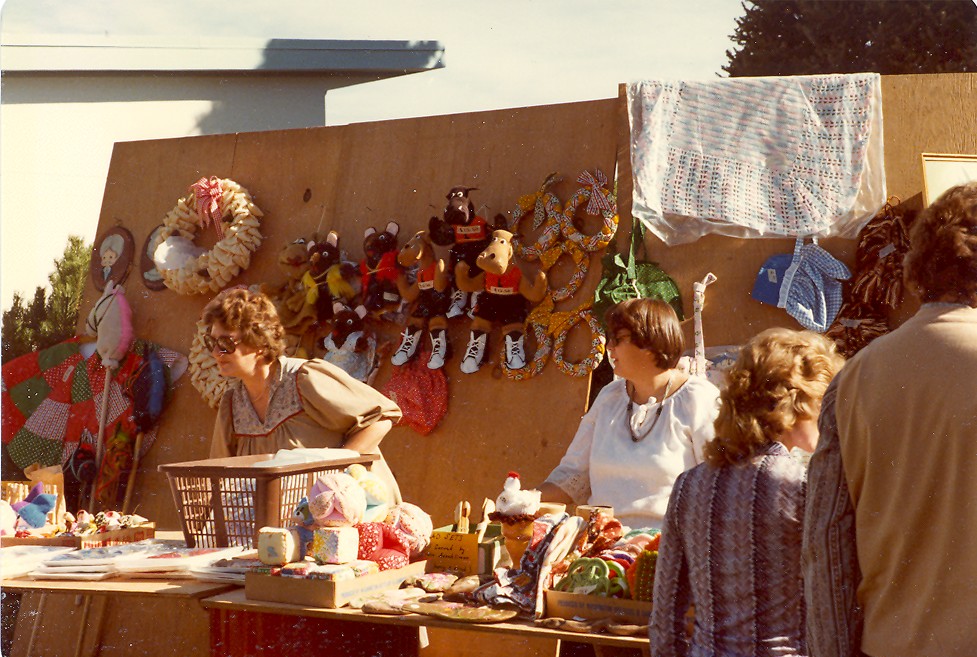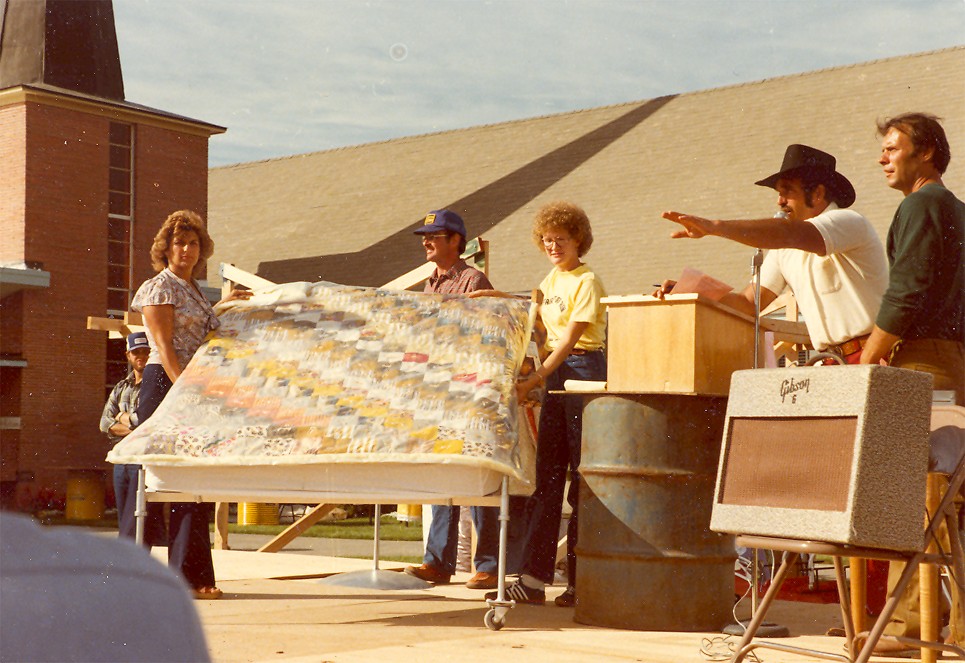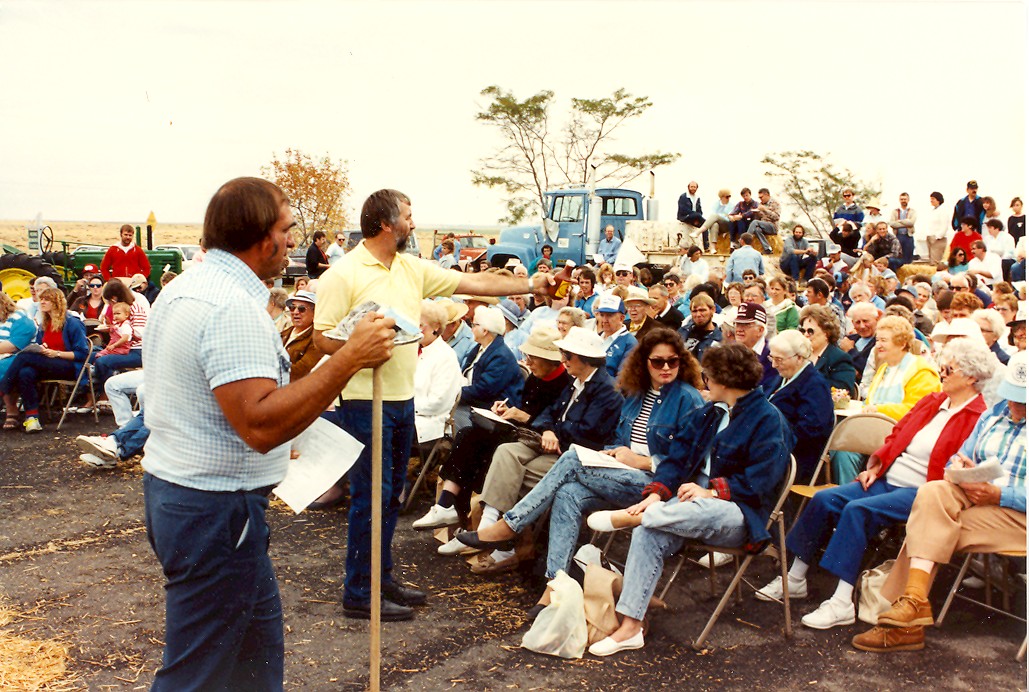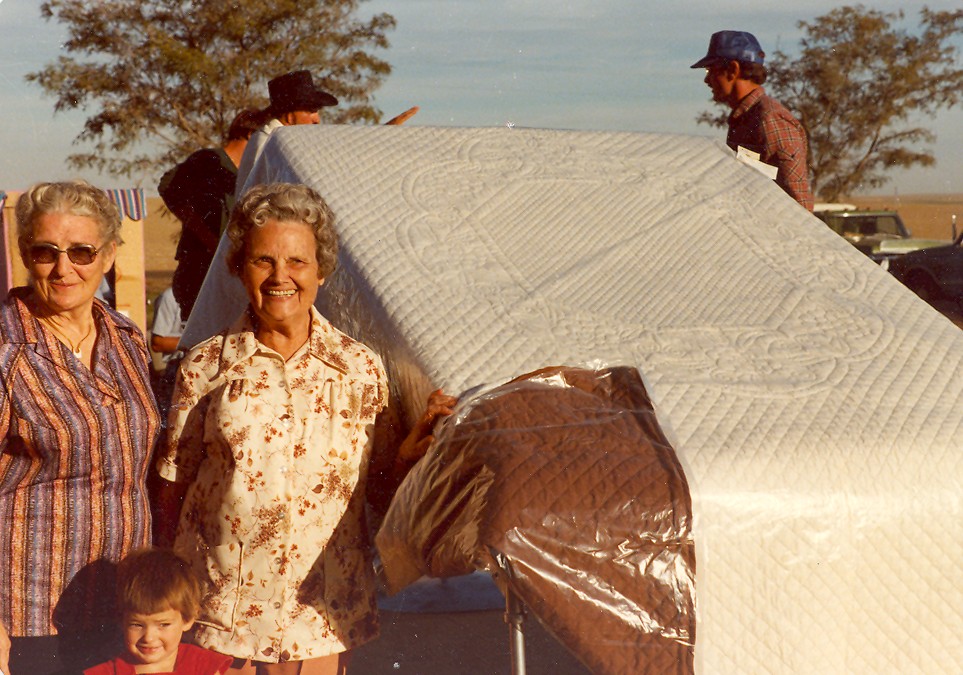 Goggle map is not currently available at this time, working on correct location information
See and join Mennonite Country Auction on FaceBook
(click the icon)
Menno Mennonite Church Grounds
1378 N. Damon Road, Ritzville, WA  99169-8717
20 miles West of Ritzville, 
25 mile East of Moses Lake
Telephone: (509)-659-0926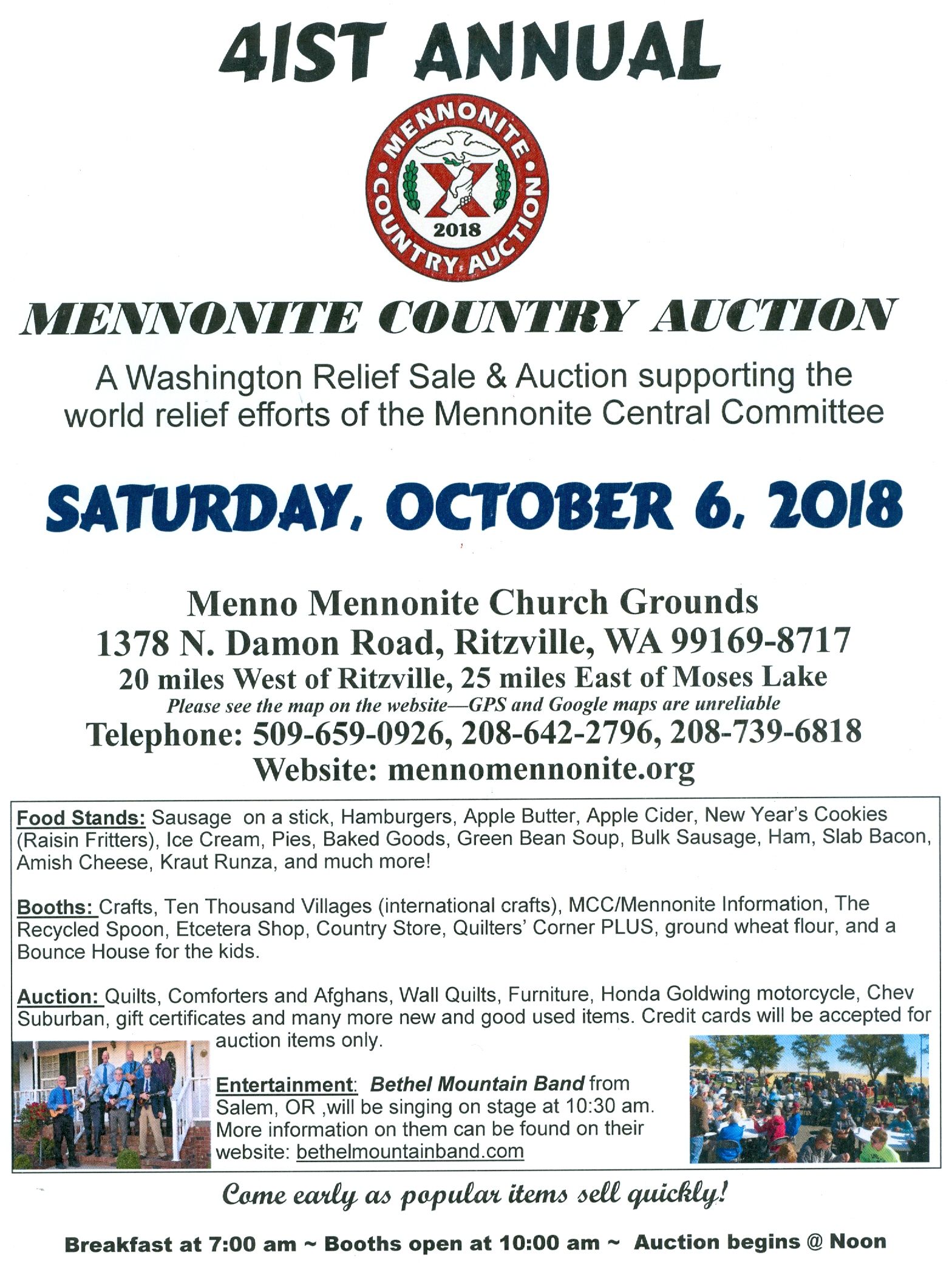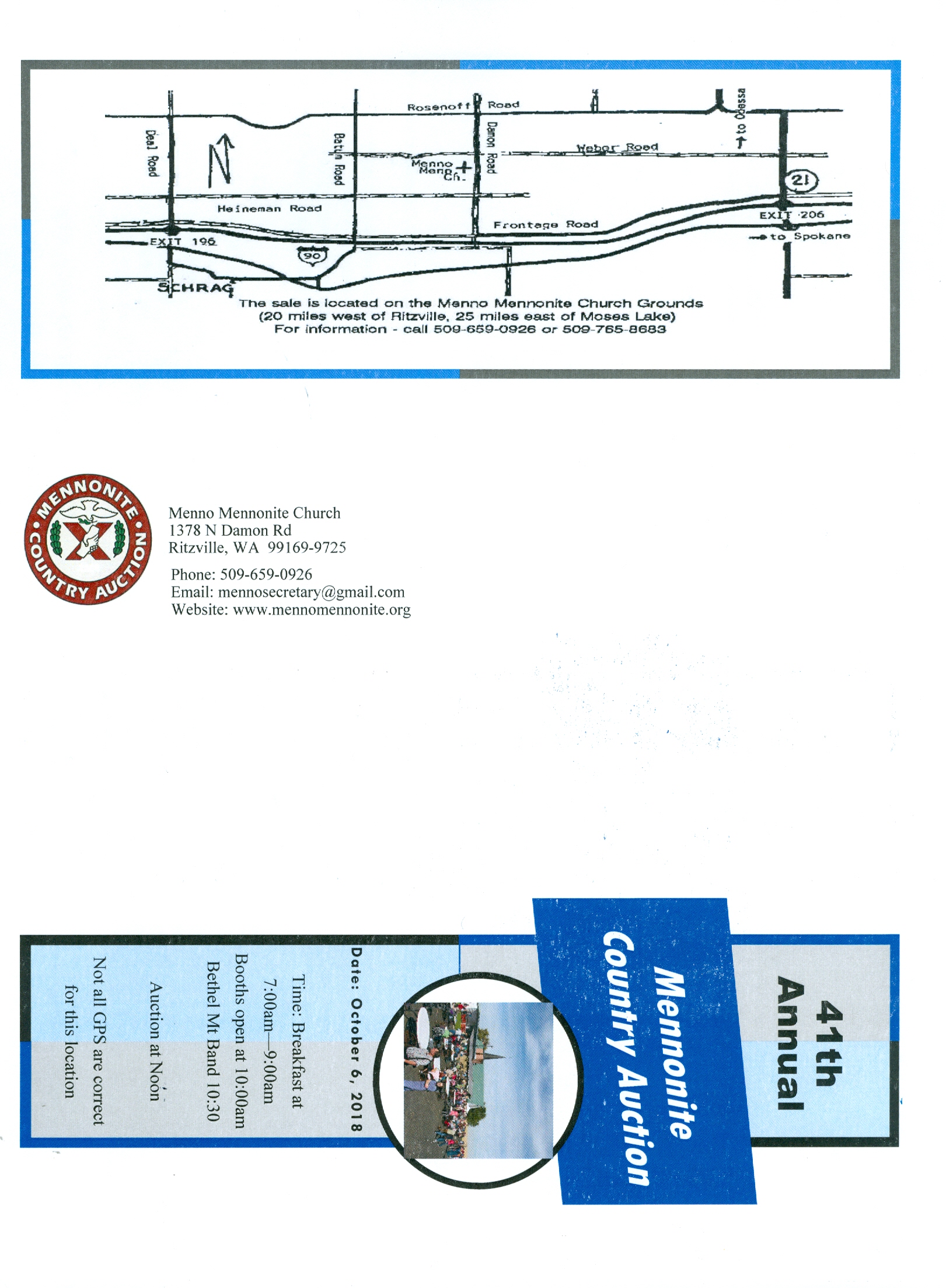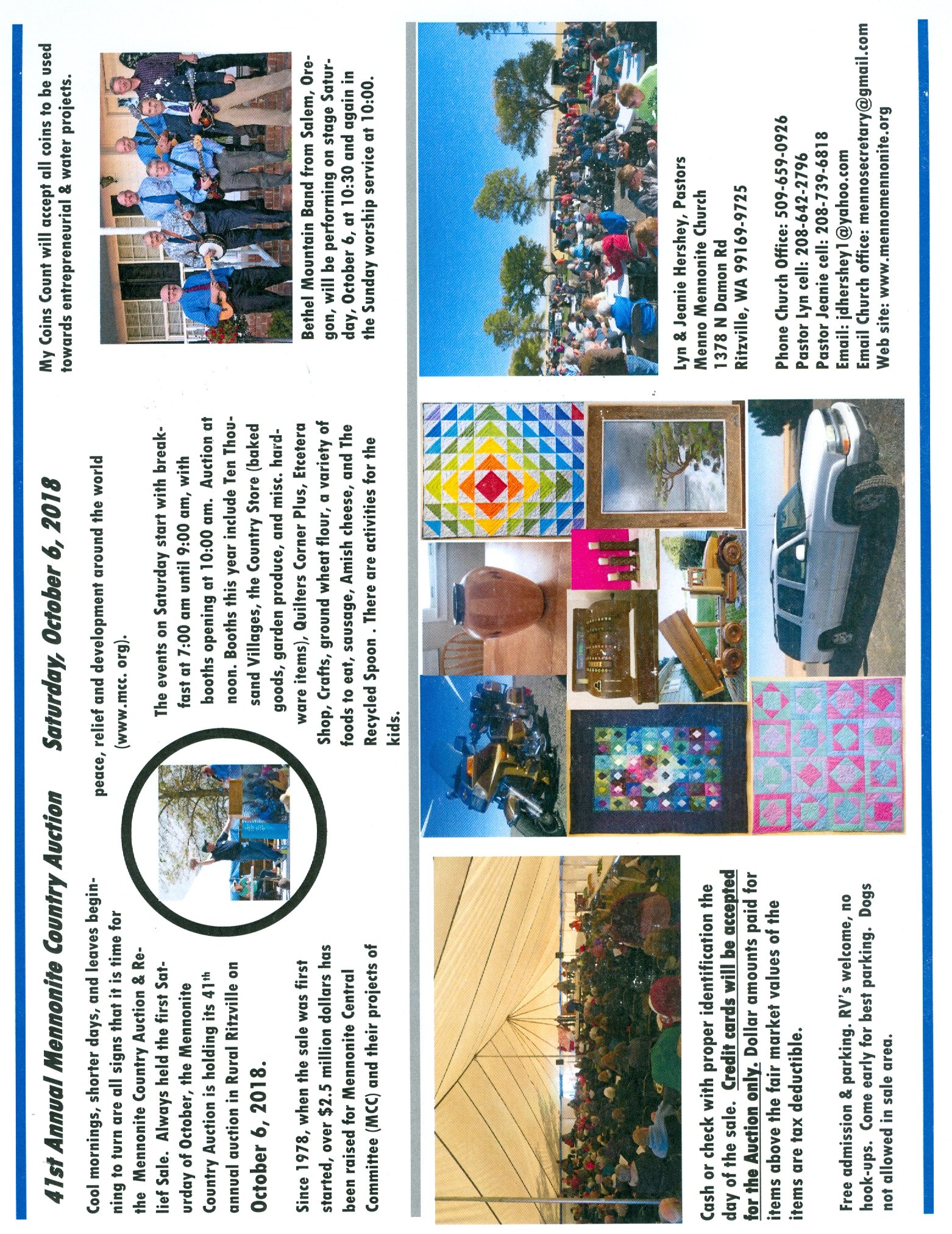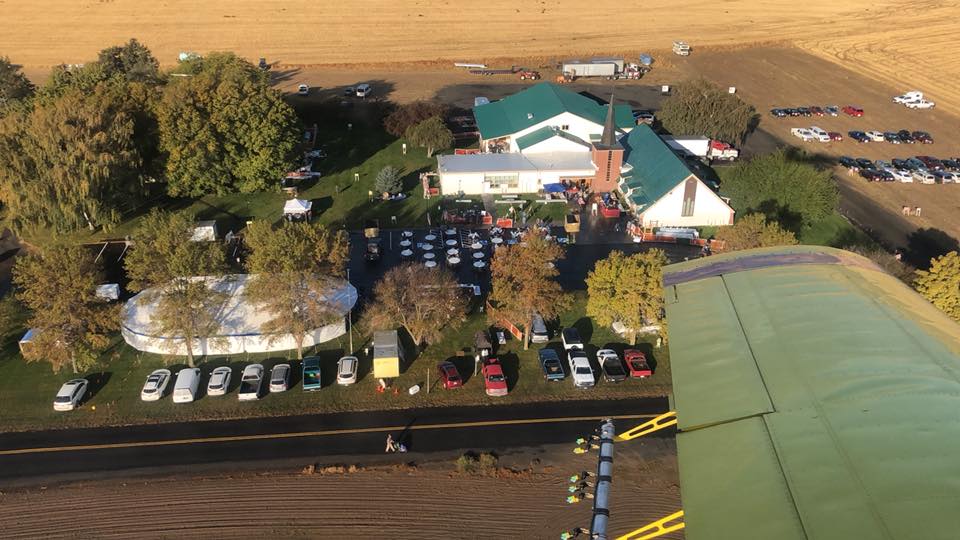 Photos courtesy of Gavin Morse, GemAir (8:00 am 2019)
The Mennonite Country Auction & Relief Sale is one of over 47 relief sales held in the United States and Canada.  Proceeds from these relief sales support the international relief, developemnt and service ministries of the

Mennonite Central Committee (MCC).

Service is given "In the name of Christ" in the midst of a hurting world as a witness to a compassionate God. MCC was born in 1920 in response to hunger and related human need brought on by war and revolution in Russia and the Ukraine. Today MCC has about 1000 workers serving in some 53 countries, including the U.S., and sends assistance to 70 countries.  MCC's programs include providing material aid, such as wheat, beans, clothing and medical supplies to meet emergency needs, and agricutural development and water conservation projects to improve life in communities around the globe.  Our sale has contributed over $1.5 million to MCC over the past 40 years.
Breakfast at 7:00 a.m.
Sales Booths open at 10:00 a.m.
Liberty Quartet sings at 10:30 a.m.
Auction starts at Noon
Activities for the kids
Come early for the best parking. 
There is limited handicapped parking available to card holders.
RV's welcomed, no hookups.
No admission fee. There is free parking for cars, buses, & RV's.
(RV camping in parking lot, no hookups)
Terms:  Cash or check with proper I.D. the day of the sale.  Dollar amounts paid for articles above fair market value of the items are tax deductible.
Credit cards will be accepted for Auction items only.
No dogs in the sale & food area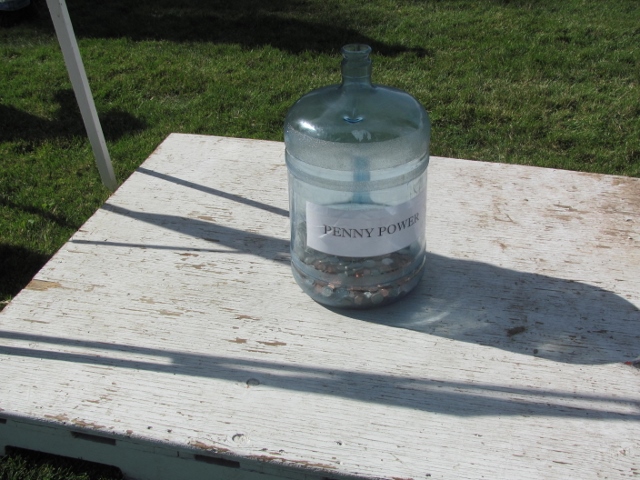 Food Stands

: Sausage on a stick, Hamburgers, Apple Butter, Apple Cider, New Year's Cookies (Raisin Fritters), Ice cream, Pies, Baked Goods, Green Bean Soup, Salad, Bulk Sausage, Ham, Slab Bacon, Amish Cheese, Kraut Runza, and more.
Booths: Crafts, Ten Thousand Villages (international crafts), MCC/Mennonite Information, The Recycled Spoon, Etcetera Shop, Country Store, Quilters' Corner PLUS, ground wheat flour, and a Bounce House for the kids.
Auction

: Quilts, Comforters and Afghans, Wall Quilts, Furniture, gift certificates and many more new and good used items. Credit cards will be accepted for auction items only
We've turned Penny Power into My Coins Count! Join the fun, intergenerational movement to collect coins to support the MCC programs of relief, development and peace around the world.  Look for the My Coins Count container on the sale grounds

and donate your spare change. Monies raised will be used to support MCC in fighting world hunger.
More than 790 million people do not have enough to eat.  It's not that there isn't enough food in the world, but disaster, poverty or unfair policies mean people can't access it.  MCC works with their local partners around the world to make sure there is food for today, food for tomorrow and food for all.
The Menno Church kids have raised $9,937.90 over the last five years for projects for Penny Power / Coins Count.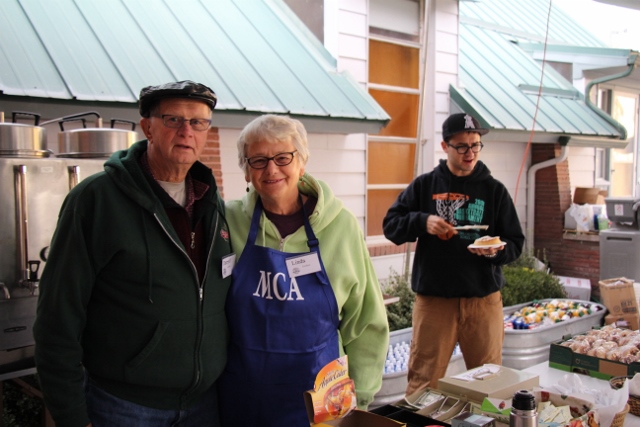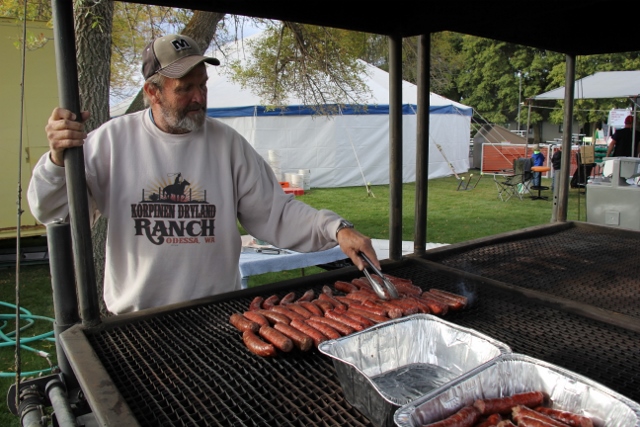 Auction Items for 2019
Auction Items will be posted as information is received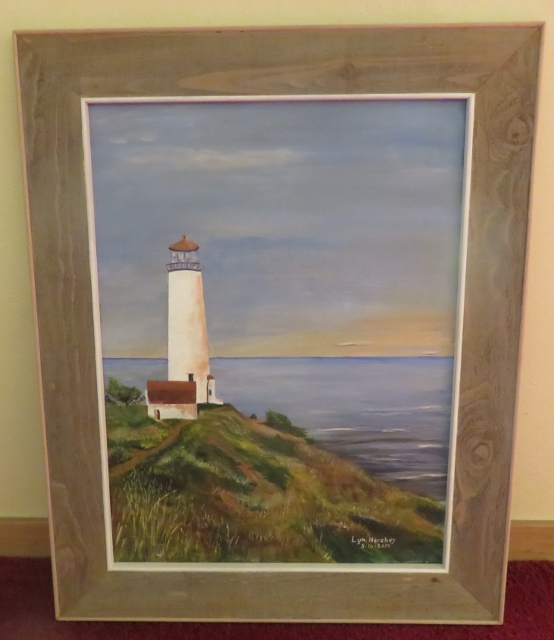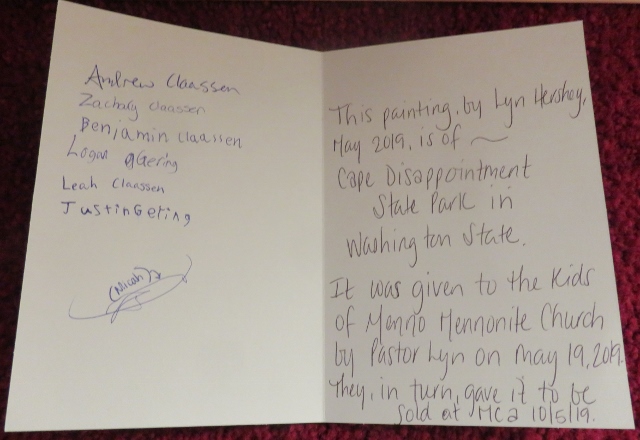 Lyn Hershey's painted picture he donated to the kids, & they donated to the MCA auction
Quilts & Afghans to be Auctioned  2019
Items to be auctioned will be posted as information is received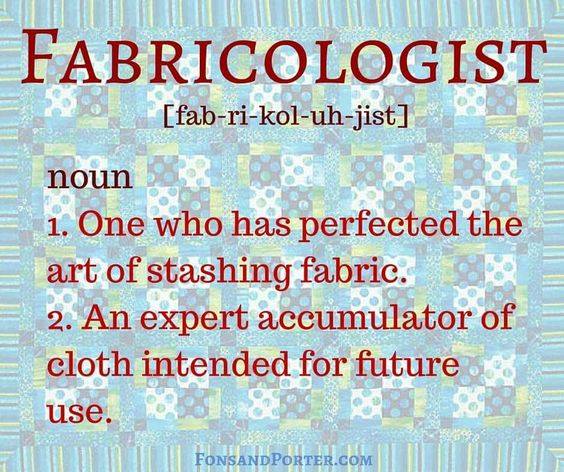 Quilts & Afghans to be Auctioned  2019
Items to be auctioned will be posted as information is received